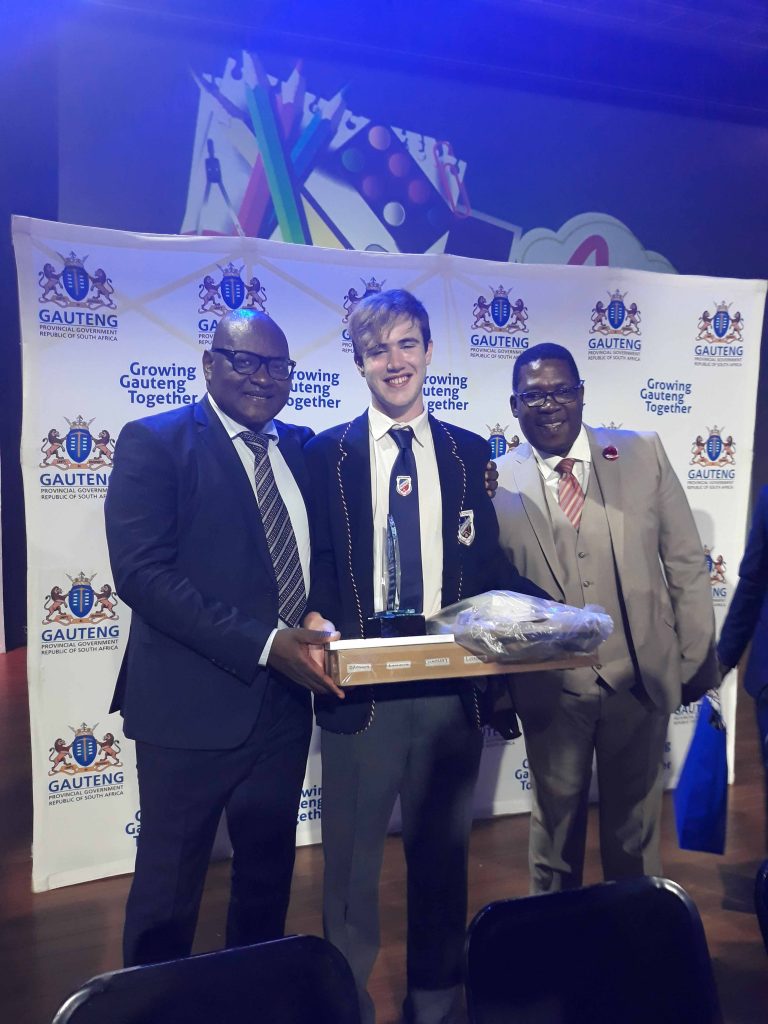 Gauteng's top performing independent school learner, Carl Donovan Smith, said that working through past papers and having healthy competition with a classmate were his most effective way of preparing for the matric exams.
Carl Smith, from Star College in Pretoria, achieved 8 distinctions in English (Home language), Afrikaans (First Additional Language), Mathematics, Life Orientation, Accounting (96%), Physical Science (98%), Life Science (97%) and Information Technology (98%), with an aggregate of 93.4%.
"Before each of my exams, I would work through numerous past papers. This allowed me to familiarise myself with the types of questions commonly asked and how to answer them correctly. I found this method is the most effective way of preparing for an exam." Smith said.
Smith explained that having healthy completion with his classmate, who also performed well, was another clever method in his matric success as he was motivated to study harder and get better results.
Gauteng's top learner Donovan Smith added that Star College Pretoria opened many doors and handed him opportunities, "I attended international science fairs, competed in robotics competitions and wrote numerous Olympiads. The invaluable knowledge I gained from the exposure to these different competitions helped and prepared me for my final matric exams."
"The teachers at Star College also consistently pushed me and motivated me to reach my potential and be successful," Smith thanked his school.
"Competing in the World Robotics Olympiads during my time at Star College Pretoria ignited my passion for computer programming and engineering." Smith says he is planning to study Mechatronics Engineering at Stellenbosch University.
"Our students attend classes, spend a lot of time with the teachers and go through all past papers. All our schools have a 100% pass rate as well as a high bachelor pass rate, so it becomes almost a tradition that creates a kind of competitive environment, and through the sweet competition everyone wins" Star College Pretoria's Principal Zafer Soyertas explained the success of his school.
Star College is part of The Horizon Educational Trust, which has been operating since 1999 in the educational field.
"Consistency is the name of the game"
Yashlen Odayar from the Star College in Durban, who achieved 10 subject distinctions summarised his success by saying that working from day one is extremely important. "My biggest strength was always being able to keep my self-focused and dedicated. Consistency is the name of the game." he said.
Odayar obtained distinctions in English, Afrikaans, Mathematics, Life Orientation, Accounting, Business Studies, Information Technology. "Star College has always supported me, from grade 8 they've taught me to always push myself beyond my boundaries. My teachers were dedicated and always tried their best to always deliver the best lesson. I'm grateful to Star College and my teacher for always supporting me and believing in me." Odayar who also achieved an overall aggregate of 94% is planning to study medicine in UCT or Wits after receiving final acceptance.
Keshava Rampersad from Durban Star mentioned that his family's and teachers support were the key in his success. "Preparation was tough. I downloaded past papers and started to systematically go through all my subjects. Having coffee was a must! Being consistent and taking breaks from studying during the year was also very important."
"First, I had a goal in mind. Second, I worked towards that goal by staying motivated and persevering. Always remember, the key to mastering any subject is to understand the theory thoroughly before diving into the past papers." Seyuri Naidoo, another successful student from Durban Star detailed his methods to success.
"My biggest strength would definitely be maintaining a balanced lifestyle. Weekly attendance at ashram services, support from my family and a means of escape through exercise, really helped me to remain calm through the matric madness." Naidoo is planning to further his studies in medicine at UKZN.
Yashlen Odayar secured second place in independent schools category in the KwaZulu Natal area, while Keshava Rampersad and Krithi Panda came in at fourth and fifth place respectively.
The 2019 matric results were announced at the Durban ICC with KwaZulu Natal Premier Sihle Zikalala, MEC for Education Kwazi Mshengu and Zulu King Goodwill Zwelithini kaBhekuzulu in attendance.
A few statistics from the 2019 Matric Exams:
A total of 788,717 students participated in the matric exams with a pass rate of 81%
326 students in total sat for the matric exams from Star Colleges across the country under the Horizon Educational Trust.
Only 623 schools achieved 100% pass rates out of a total of 6584 schools.
Star College Cape Town Girls ranked first in the Western Cape area.
Star College Cape Town Boys ranked third in the Western Cape area.