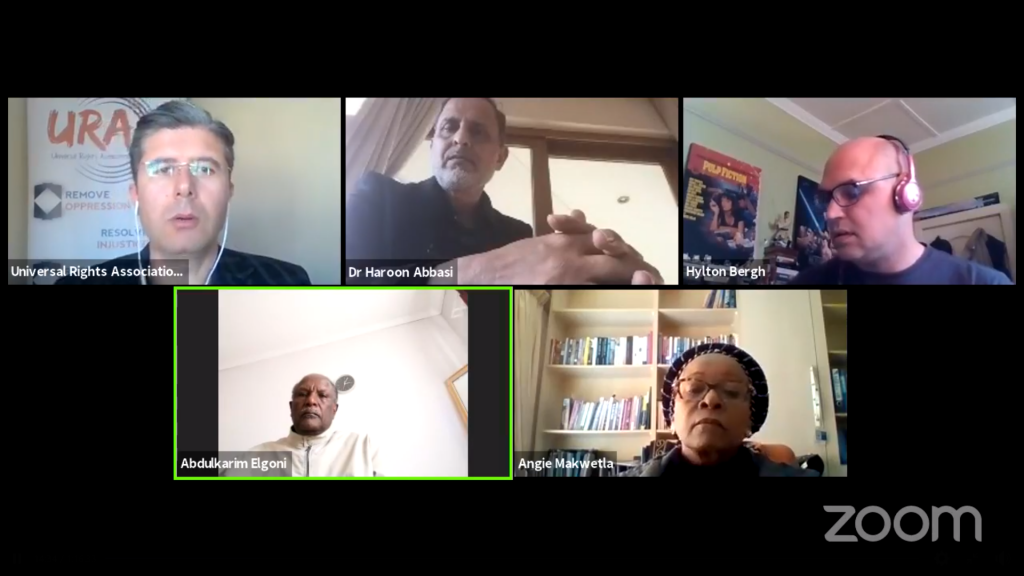 Thousands of migrants and South African citizens benefited from an ambitious project by various organizations run by immigrant business people and institutions.
On the occasion of June 20 World Refugee Day, Johannesburg based Universal Rights Association (URA) organized a webinar titled Contributions of Refugees and Migrants to South Africa, to mark the milestone.
Representatives from the African Diaspora Forum (ADF) and Islamic Circle of Southern Africa (ICSA) who joined URA's program, said that they have been helping everyone since the outbreak.
ADF chairman Dr Abdul Elgoni said their work was more about human rights issues before the Coronavirus pandemic. But since the government lockdown started, they have been focusing on distributing food parcels.
Elgoni explained that foreign-owned spaza shops, their members and other organizations such as Africa Works, Islamic Relief provided tons of food items and they didn't differentiate between migrants and non-migrants when delivering food hampers.
"Covid-19 shows us there is not a difference between foreigners and South Africans. Local authorities highly appreciated our distributions and 702, SABC, ENCA covered our charity works. Tens of thousands of vulnerable people received our help during coronavirus in Gauteng, Bloemfontein, Cape Town and Durban," Dr Elgoni said.
Central President of Islamic Circle of Southern Africa (ICSA) Dr Haroon Abbasi who came to South Africa in 1991 mentioned that his organization's flagship program is cataract surgeries and so far they have done 6920 cataract surgeries.
"The project was established in 2005 and over R100 million was spent on these cataract surgeries. We are busy with Mobile cataract project to reach other provinces," Dr. Abbasi said.
Hylton Bergh, from Scalabrini Centre of Cape Town, said that the center's Employment Access Program has database of 1450 employees, of that number 360 were South Africans last year.
"When we come out of this pandemic, the world will be a better place to live in. We will know how to care for each other," said SA Human Rights Commissioner Angie Makwetla who joined the URA's online program.
Dag said that refugees and migrants are blamed for some negativities in many parts of the world and these attitudes damage social cohesion and peace.
"According to OECD and International Labor Organization reports, immigrant workers make a significant contribution to the South African economy," Dag mentioned.
Atilla Dag from URA, shared UNHCR statistics that, as a result of conflicts, one person every two seconds is forcibly displaced and at least 70.8 million people have been forced to flee their homes. Over one billion people are migrants and 258 million migrants are international migrants. Statistics by the UN Population Division, the total foreign-born population in South Africa is 4036696 in 2017.