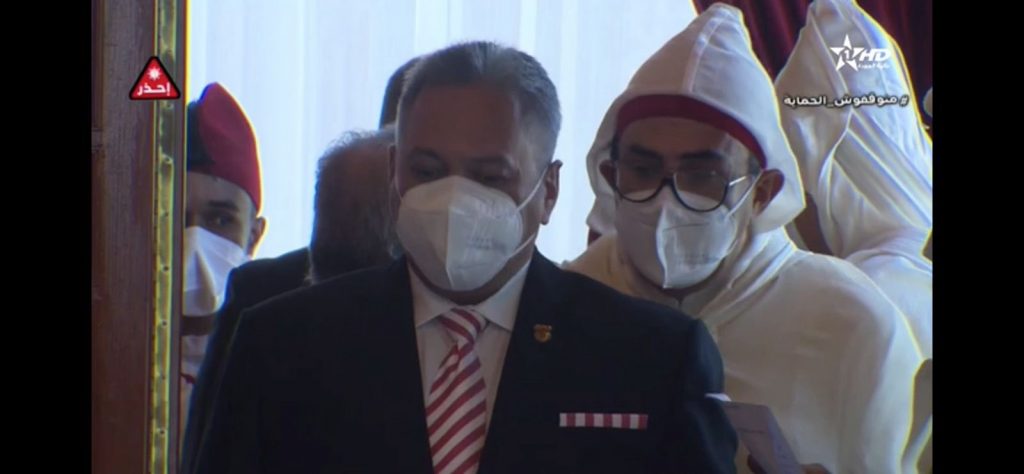 20 January 2022, Johannesburg
Mamiky Motshwane
Republic of South Africa Ambassador to Morocco Ebrahim Edries, together with other ambassadors, presented his credentials to King Mohammed VI on January 17th, 2022.
Morocco's Minister of Foreign Affairs Nasser Bourita received on Thursday, January 14th 2021 in Rabat three new ambassadors to Morocco, representing South Africa, Rwanda, and Ireland.
On August 20, 2018, His Majesty King Mohammed VI appointed Mr Youssef Amrani, former deputy Minister of Foreign Affairs and adviser in the Royal Cabinet, as Ambassador Extraordinary and Plenipotentiary to Pretoria. In 2020, South Africa designated Mr Ebrahim Edries, the new ambassador of South Africa to Morocco who was received for the presentation of the copies of his Letters of Credence by Morocco's Minister of Foreign Affairs, on January 14th 2021.
The president of South Africa, Mr Cyril Ramaphosa, appointed Mr Edries as the head of the South African Embassy in Rabat. This was South Africa's first time agreeing to raise the level of its diplomatic representation in Morocco since the reestablishment of relations in the 1990s. The new South African ambassador spoke about having worked with the South African Embassy in Iran, Angola and, Sudan. This is a man with experience in being an ambassador in countries.
South Africa and Morocco agreed to work together and leave the stalemate behind for a promising future for the two countries. These two countries are significant poles of economic development and political stability in the extreme South and extreme North of the Continent.
Morocco and South Africa have economic opportunities that bring them closer. The countries have Sanlam and Saham, Aredei Capital and so on, which are all big success stories in their trading history on the economic level. Both countries strive to push the dynamic even further to create more value for the young generation and young people.
"I would like to congratulate Ambassador Ebrahim Edries, for presenting to his Majesty King Mohammed VI his credentials as Ambassador Plenipotentiary and Extraordinary of the Republic of South Africa to His Majesty the King of Morocco. Wish him success on his mission" said Youseff Amrani on twitter.
Ebrahim Edries, Ambassador of the Republic of South Africa, will hopefully keep Morocco and South Africa's relationship healthy and balanced. The two states thrive beside one another.