Mamiky Motshwane, Johannesburg
On the 20th of January, the Minister of Basic Education announced that the pass rate for the 2021 National Senior Certificate was 76.4%.
Despite having to adapt to new methods of learning over the past two years due to the COVID-19 pandemic, Nizamiye School Mayfair announced that the 2021 National Senior Certificate pass rate is 100%.
Nizamiye achieved 9th position in South Africa, 4th in Gauteng and 1st in Johannesburg Metropolitan municipality. The class of 2021 has 96% Bachelors pass rate and 2.93 distinction per learner. All in all, giving 100% pass rate. Class of 2021 worked hard, looking at the results the class obtained. Mr Isak Turan, the principal of the school said all the educators including himself tried their level best to ensure that the learners achieve excellent results. He mentions the class consisted of really good group of learners who were trying their best. With the hard work implemented, the excellent results were expected.
The school has achieved excellent results in the past, 2018, 2019 and 2020, however, 2021 came with more excellence than the other years even though it was one of the hardest years for the learners.
The deputy principal, Mr Osman Babacan said, "the most difficult year for us, because besides COVID, we had other challenges, like, maybe you heard about the kidnapping in this area, that was a major concern for us, actually, one of our matric learner's father was kidnapped. And there was another who was very afraid. So, he didn't want to send his daughter to school, we had to call and she came late, she was crying, you know, she was afraid.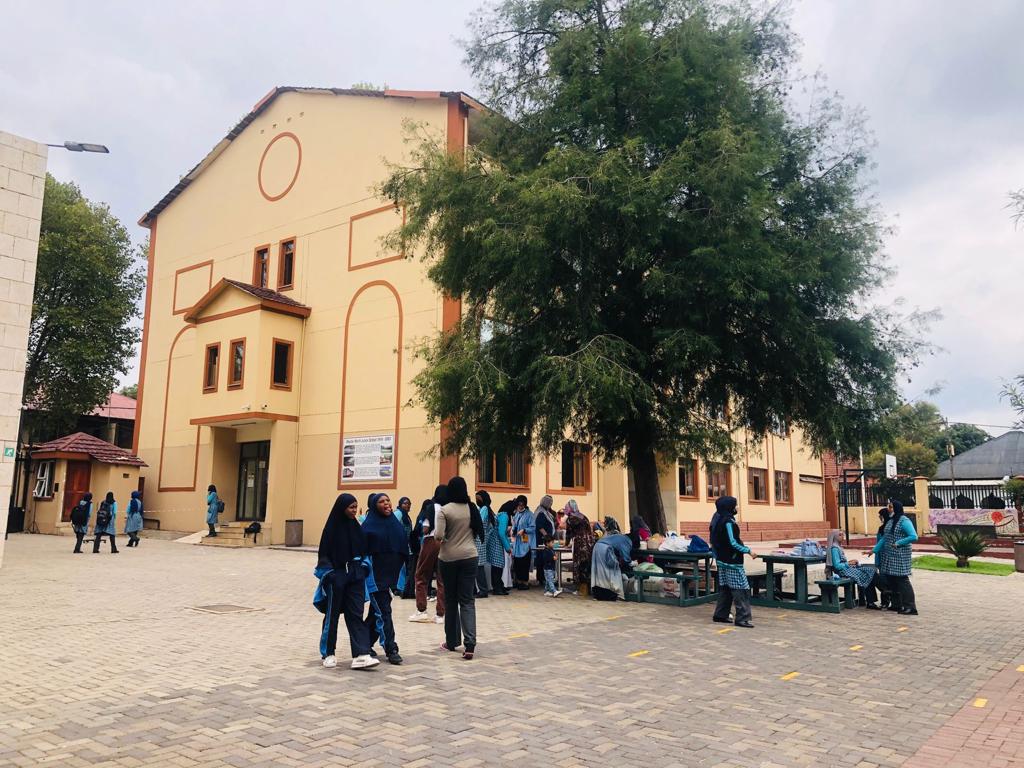 But, you know, considering all these challenges, I think this group did very well, they kind of group that helped each other. And teachers also, you know, sacrificed from the times, for example, we had like a kind of session for those learners. For example, during COVID, one learner actually lost both father and mother. One learner lost her aunt. So, they were going through really difficult times, they wanted to give up, we kind of set up a kind of meeting with the teacher who also was, you know, people live in COVID. So, they got together and they talk to each other, they tried tonspeak out, you know, what they are going through, and we are glad all the time that we're able to continue, and all of them actually passed even those learners who are going through a lot. So, besides COVID there was this kidnapping issues."
Mr Turan said, "2019, was a normal year, not much challenges as we faced in 2020 and 2021. And I think that for those in 2020, matriculants had a chance to have a full grade 11 year with no challenges in 2019. So, they had a better solid foundation, when we compare 2020 ones, because they started struggling from return with the COVID-19, online and hybrid classes, especially those who are struggling learners. With online, they struggled a lot, because they needed to be in the classroom, the teacher can just look at them, and then see in their faces, whether they understood or not, you can repeat, but when it comes to online, you teach, and then if the learner doesn't raise the question or come back to you, you can't see them, you can't see, but we know, it's not the same thing as when you're interacting with them in person. So, those are the main challenges, we had in 2020 and 2021.
In order to assist learners with their studies, Mr Babacan said the school offered, hybrid classes, where there would be a camera in classrooms and online students would also join the classes from home the same way as the learners attending the class face to face. The key ingredients the school used to motivate learners to work hard is their guidance system. The school's teachers would have sleepovers with the learners, and they also do parent visits, where the teachers go to the learners' homes. This is done to see how the environment the learner lives in is like. If there is a learner struggling, the problem is identified during the home visits. Mr Babacan said if there is good communication between the learner, teacher and parent, things become easier. If a learner is struggling, as long as teachers have a relationship with the parents, they will work together to help the learner.
Zahraa Khan, attained first in class with 9 distinctions. Fizza Shirmeen Abbas, Qaynat Salim and Fatima Zahra Khan, attained 7 distinctions. Ammarah Patel, Feza Ijaz, Mahrulnisa Mehmood, Imaan Moussa Ismail, Abira Muhammed and Tayyabah Ahmed closed off the top 10 by all attaining 6 distinctions each.
Both the principal and deputy principal are proud of class of 2021 and they are happy with the results the class attained, through the challenges, the class indeed outdid themselves.